Chapter 3
Please keep these annotations SPOILER-FREE by not revealing information from later pages in the novel.
492-page edition / 547-page edition
63/61 -
murdered in Egypt under the duello
It is clearer in Pynchon's short story Under The Rose (which he repurposed for V.) why Porpentine is murdered "under the duello". He had violated "a tradition in espionage where everything was tacitly on a gentlemanly basis" [1]:
"'You screamed at the Chief,' Bongo-Shaftsbury announced. 'You said: Go away and die.'" [2]
65/63 - Pazzo son! Guardate, come io piango ed imploro... / Come io chiedo pietà!
From Act III of the opera Manon Lescaut by Giacomo Puccini (see also reference to Manon Lescaut on p. 91/??). I would translate it as: "I am mad! Look how I cry and plead... / How I beg for pity!
67/65 Yusef, believing that an anarchist ... way of balance.
The anarchist Reverend Moss Gatlin in Against the Day preaches: "Every time a stick goes off in the service of the owners, a blast convertible at the end of some chain of accountancy to dollar sums no miner ever saw, there will have to be a corresponding entry on the other side of God's ledger, convertible to human freedom no owner is willing to grant." (p. 97)
68/66 - Count Khevenhüller-Metsch
From Pynchon's introduction to his short-story collection Slow Learner :
"Loot the Baedeker I did, all the details of a time and place I had never been to, right down to the names of the diplomatic corps. Who'd make up a name like Khevenhüller-Metsch?" [3]
69/68 -
the man with the blue eyeglasses
Likely a reference Karl Richard Lepsius (1810-84), German Egyptologist and the author of numerous books including Chronologie der Aegypter (which laid the foundation for a scientific treatment of early Egyptian history) and Todtenbuch (the Egyptian Book of the Dead) (1867); Lepsius was involved with the study of ancient Egyptian blue glass and its possible material sources, particularly the turquoise blue and greenish-blue of some Egyptian glass.[4] Wikipedia entry
73/72 - God wore a wideawake hat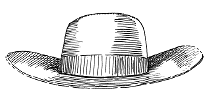 A Wideawake Hat is a men's hat resembling those worn by the Quakers that settled parts of the United States. They are usually made from black or brown felt and have a fairly wide brim that is upturned slightly (maybe 15 degrees) from the base of the hat on the left and right sides, while being pretty flat on the front and back with a fairly blunt top (as opposed to the well rounded top of a bowler). Usually there is also a fairly tall black hatband around the base, just above the brim.
[1]
From Henry Adams' "Les Miracles de Notre Dame" in Mont Saint Michel and Chartres:
"[the Virgin] was above the law; she took feminine pleasure in turning Hell into an ornament" [5]
73/72 - C of E
Church of England
78/78 --
under the influence either of Fortune, or of virtue
From Pynchon's short story Entropy:
His had always been a vigorous, Italian sort of pessimism: like Machiavelli, he allowed the forces of virtù and fortuna to be about 50/50; but the equations now introduced a random factor which pushed the odds to some unutterable and indeterminate ratio which he found himself afraid to calculate. [6]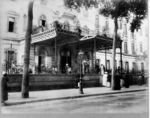 83/84 -
They were in front of the Shepheard's Hotel
From this BBC Website:
In order to accommodate Egypt's increasing tourist numbers as well as those passing through en route to India, new hotels were quickly created to cater for them. The first were built in Cairo, and as early as the 1840s, Samuel Shepheard was managing the British Hotel in the city's European quarter. Facing the Ezbekieh Gardens, flanked by mosques and convenient for most amenities, it quickly gained a reputation for good management and Shepheard soon had his name over the door.
With the old palace replaced by a purpose-built hotel at the turn of the 20th century, the new Shepheard's remained a firm favourite with British and American tourists and a symbol of colonial rule. As the place to stay when in Egypt, some checked in simply for the social life and saw 'less of Egypt than they would if they remained in London and went to the Egyptian Department in the British Museum' wrote one observer in 1908. From the vantage point of the hotel's terrace and cocktail bar, where 'waiters glided about wearing fezzes and inscrutable Egyptian expressions' (according to Noel Coward), socialites could see and be seen in an atmosphere described as 'Eighteenth Dynasty Edwardian'.
85/86 - Girgis the mountebank
A mountebank is person who sells quack medicines from a platform, a boastful unscrupulous pretender, or charlatan.
Perhaps some of the inspiration for this sequence comes from an old Arabic folktale. See entry T482 in Stith Thompson's Motif-Index of Folk-Literature, describing an old story about a woman with two husbands. One is a juggler, and is only home at night, while the other is a burglar, and only home during the day. Thus, the two men don't know about each other. The story is referenced to: Chauvin, Victor. Bibliographie des ouvrages arabes. 12 vols. Liège, 1892—1922.
87/?? It isn't the girl I saw you wiv in Brighton...
From the music-hall song "Hello! Hello! Who's Your Lady Friend?" (music by Harry Fragson; lyrics by Worton David and Bert Lee).
89/90 -
Fashoda
African town (present day Kodok) & the subject of a major diplomatic/territorial dispute--and quite nearly a military one--between the French and the British in 1896. Both countries were snapping up territory in Africa, & both claimed Fashoda for their own. The dispute was "won" by the British, but both sides nearly went to war over the issue. See wikipedia
References
Chapter 1
In which Benny Profane, a schlemihl and human yo-yo, gets to an apocheir
9/1
Chapter 2
The Whole Sick Crew
44/39
Chapter 3
In which Stencil, a quick-change artist, does eight impersonations
61/59
Chapter 4
In which Esther gets a nose job
95/97
Chapter 5
In which Stencil nearly goes West with an alligator
111/115
Chapter 6
In which Profane returns to street level
134/141
Chapter 7
She hangs on the western wall
152/161
Chapter 8
In which Rachel gets her yo-yo back, Roony sings a song, and Stencil calls on Bloody Chiclitz
213/229
Chapter 9
Mondaugen's story
229/247
Chapter 10
In which various sets of young people get together
280/305
Chapter 11
Confessions of Fausto Maijstral
304/333
Chapter 12
In which things are not so amusing
347/385
Chapter 13
In which the yo-yo string is revealed as a state of mind
367/407
Chapter 14
V. in love
393/437
Chapter 15
Sahha
415/461
Chapter 16
Valletta
424/471
Epilogue, 1919


456/507