Bridey Murphy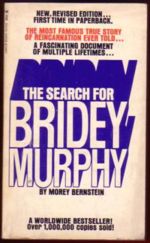 On a dark and dreary day in 1952, Morey Bernstein hypnotized Virginia Tighe. She began speaking in an Irish brogue and claimed that she was Bridey Murphy from Cork, Ireland. Bernstein hypnotized Virginia aka Bridey many times after that. While under hypnosis, she sang Irish songs and told Irish stories, always as Bridey Murphy. Bernstein wrote a book,
The Search for Bridey Murphy
(New York Doubleday, 1956), and it became a bestseller. Recordings of the hypnotic sessions were made and translated into more than a dozen languages. The recording sold well, too. The reincarnation boom had begun.
Newspapers sent reporters to Ireland to investigate. Was there a red-headed Bridey Murphy who lived in Ireland in the nineteenth century? Who knows, but one paper — the Chicago American — found her in Chicago in the 20th century. Bridie Murphey Corkell lived in the house across the street from where Elizabeth Tighe grew up. What Elizabeth reported while hypnotized were not memories of a previous life but memories from her early childhood. Many people were impressed with the details of her memories, but the details were not evidence of authenticity.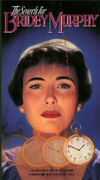 As Martin Gardner says, "Almost any hypnotic subject capable of going into a deep trance will babble about a previous incarnation if the hypnotist asks him to. He will babble just as freely about his future incarnations....In every case of this sort where there has been adequate checking on the subject's past, it has been found that the subject's unconscious mind was weaving together long forgotten bits of information acquired during his early years." Or, the subject just makes it up. Whatever else the hypnotic state is, it is a state where one's fantasies are energetically displayed.